Exonar & Softwerx Webinar:

Data Discovery in Microsoft-centric Enterprises​
Tuesday 8th December at 2pm
"How Exonar & Softwerx can help to secure your data & fully leverage your Microsoft 365 Investment​."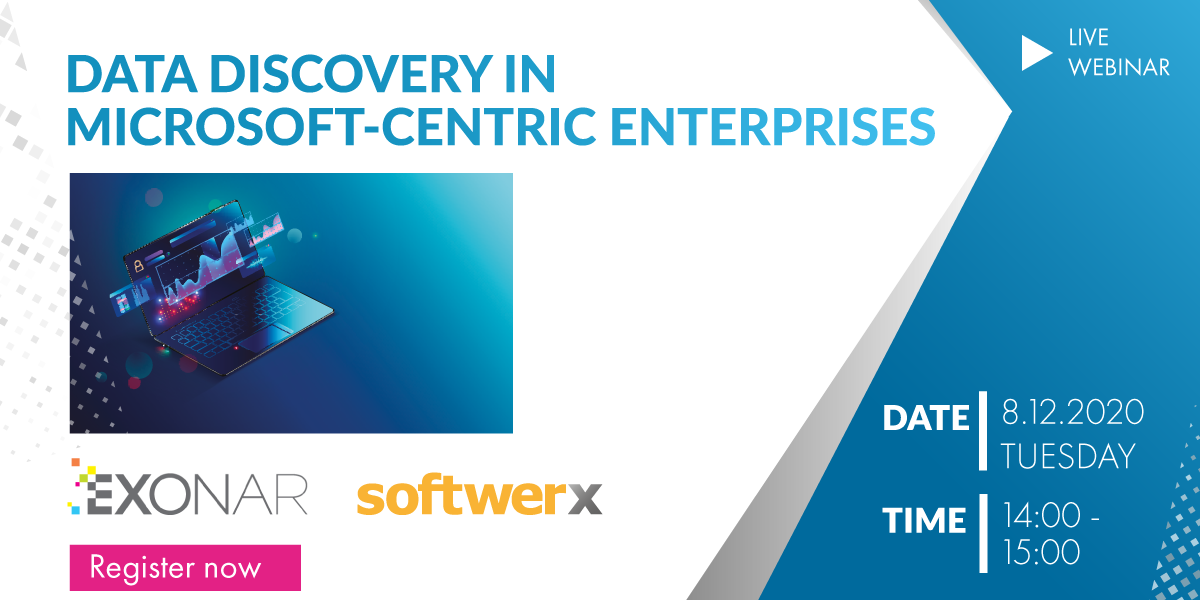 By attending this webinar you will learn:

Why lack of visibility of unstructured data is becoming a huge issue for organisations

How Exonar and Softwerx help you leverage your Microsoft investment for information governance

How to reduce the risk of a data breach due to shortcomings in organisations' data governance models
Speakers

James McCarthy
Chief Marketing Officer (CMO)
Exonar Ltd


Adriaan Bekker
Technical Director
Softwerx Ltd
How

Exonar

&

Softwerx

can help to secure your data & fully leverage your Microsoft 365 Investment
​
All organisations we are speaking to seem to be facing the same challenge - they don't have visibility of their data, they don't know where their data is, and they don't know who has access to it or how to secure it.
But, for most Microsoft centric users, their unstructured data is moving directly into their Microsoft environment, and to overcome this they need to start by understanding their data. However, the scope of Microsoft's data discovery tooling has some significant limitations. By combining Exonar Reveal with Softwerx's specialist knowledge and experience of Microsoft 365 we are able extend and gain visibility of all your data in one, instantly searchable place.
Join us on Tuesday 8th December, at 2pm to find out how Exonar and Softwerx can help to secure and leverage your data.
At the webinar we'll be sharing some data discovery diaries, asking poll questions and driving discussion.